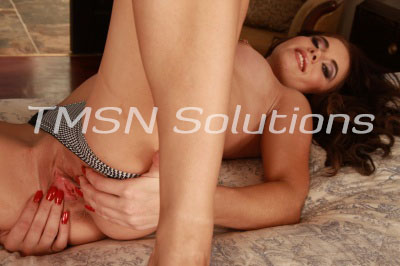 Collette — 1-844-332-2639 ext 383
The silkiest and the softest fabric has been up against my pretty pussy all day long.  Of course, I did exactly what you have requested me to do.
First thing in the morning, I went to the gym.  I spent about an hour jogging and about an hour doing intense cardio.  At the end, I was covered in sweat.  My pussy was dripping wet.  Right after the shower, I still put on the same pair as I headed to my salon.  You love how my panties have been on my hot little body the entire day, especially a day like today where I have had a lot of physical activity.
Secondly, when I arrive to my salon, I go to my office and lock the door behind me.  I'm feeling extremely horny and I simply have to rub my sweet little pussy.  I get my vibrator out of my purse and turn it on.
The gentle vibrating sound gives me goosebumps.
I slowly press it up against my pussy through my panties.
I want these panties nice and wet just for you, my dirty panty sniffer. What if tonight I have a super hot date, and I get fucked in my panties and completely cream them???
Call me and I will describe to you in close detail, how my panties look, how they smell and even how they taste.
Collette — 1-844-332-2639 ext 383
http://www.tlcphonesex.com/collette/