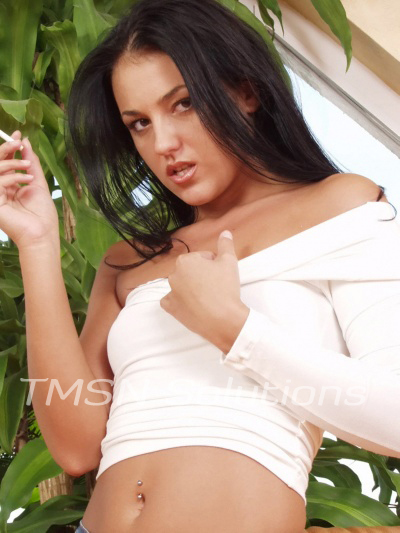 Avery  1-844-332-2639 ext. 228
There was a sexy new guy at my office and I had been flirting shamelessly for weeks with him. The elevator often seemed to be the focal point. We would find ourselves alone, while changing floors. We started doing a cute thing where, as soon as the elevator started up or down, I'd grab his dick and he'd squeeze my breast. Almost like we were "accidentally falling into one another".
It was thrilling as there would be others in the elevator and we just had to hope they didn't see us. We would normally stand at the back and touch each other until we reached our floor. Then, we would straighten up and looked completely normal as we stepped off the elevator, although his excitement was always a little more obvious than mine and he'd leave with a raging hard on.
On one Friday, he slipped a note under my office door. I didn't see it and another slutty coworker entered soon after. She picked up the note and said, "Oh! SOMEONE is going to have some fun tonight!" I blushed, taking the note. It said, "Let's work late and meet in the elevator at 8." There was no signature but I had no doubt who wrote it. My pussy was immediately wet. My coworker said, "Sure wish I could watch". And I told her that maybe one day she could join us….
As 8 approached, I got ready by taking my panties off under my dress. I just wore heels and a tight black dress. All of the offices were dark and only the security lights were on. I stood at the elevator, wondering if I should push a button when suddenly I heard the loud DING. I jumped. The doors opened, and there was my fuck buddy in soft casual clothes. I could see the outline of his already rock hard cock through his thin cotton pants.
As soon as the doors closed, it was on. I had his cock in my mouth within seconds. His hands were in my dress and squeezing my nipples. We both felt free to make as much noise as we wanted because we were sure we were alone in the building. As I stood up, he picked me up and slid me down onto his throbbing cock. My pussy was dripping wet. 
We fucked like that until I came like 3 or 4 times and I felt his warm cum blasting into my pussy. The best part was, the elevator took off just as we were both cumming. I thought, "What a smart man…hitting that button at just the right time which jerked me down further into his cock." Then, my new man had one last surprise for me. Because when the doors opened, I was still in his arms, sitting on his cock and there stood my smiling slutty coworker. She walked in and as the doors closed pressed the button to go down….
Avery xo
1-844-332-2639 ext. 228
http://www.phonesexcandy.com/avery/
http://www.sinfullysexyphonesex.com/avery/
Want to read more of my hot blogs?
http://www.tlcphonesex.com/author/avery/
http://www.phonesexcandy.com/author/avery/
http://www.teenbabesphonesex.com/author/avery/
http://www.sinfullysexyphonesex.com/author/avery/