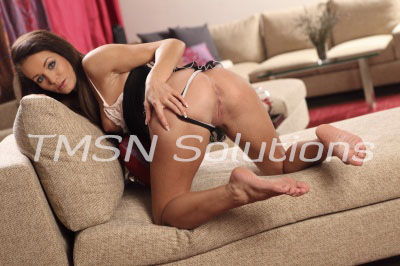 Sinful Serinda 844-33-CANDY (844-332-2639), ext. 394
Blake spins me around and now my back and nearly bare ass are pressed tightly against his huge throbbing wet cock. I let out a gasp as he forcefully pushes me forward, bending me in half like a rag doll. Before I could utter a word he slams his cock deep and hard into my tingling soaking wet pussy.
Blake continues, holding me tightly with his strength in my bent position. His hips thrust as hard as I imagine they can as he slams his huge cock over and over, deeper and deeper into my wet exposed slit. "Do you like being my little whore Serinda" Blake hisses as he pounds his hips against my ass bones. "Tell me Serinda, are you my whore!?" Blake grunts out at me in a demanding tone.
Whimpering and moaning I grab the edge of the couch for dear life as Blake continues forcefully slamming his cock into me. Blake slaps my ass hard and again demands an answer "Tell me, tell me right now how much you love being my whore!". I am moaning and panting and somehow manage to respond. "Yes Blake, I am your whore. I want to be your whore so badly".
Pleased with this Blake spins me around but this time shoves my shoulders down forcing me to my knees. "Suck my cock, I want you to take me into your throat as deeply as you can". I obey, taking my right hand and while wrapping it around his cock I move my mouth over his head. Before I can begin to suck his huge hard cock he thrusts it so deep that it slams the very back of my throat. My eyes begin to tear up as I am not able to breathe and the sensation which I'd never felt before of a huge cock ramming hard into the very deepest reaches of my throat both frighten and arouse me further.
Blake fucks my mouth and throat, deep and hard, pumping faster and faster. I force myself to hold on, to not gag and take his hard cock as long as I can stand it. As I'm about to become frantic from the lack of air Blake pulls his huge cock out of my mouth. "I want to feel that tight little ass of yours grip on my cock" Blake taunts as he again yanks me up from my knees and forcefully pushes me forward and against the couch. Before I can respond, Blake buries his huge cock deep into my tight nearly virgin asshole.
I gasp and let out a cry of pain and pleasure which seems to encourage Blake to push inside of me deeper and harder. My ass now at his mercy he continues to pump. "Tell me you are my dirty little whore Serinda" Blake demands through the moans he is hissing out. Tell me Serinda" Blake demands. I can bearly speak as the pain and pleasure overtaking my ability to utter anything other than whimpers and moans. "I'm your dirty little whore" I manage to speak softly in response. "Louder!" Blake demands in a very aggressive tone. "I'm your dirty, filthy little whore!" This time I nearly shout to appease him.
Before either of us can manage any further words of communication, Blake explodes his huge load of cum deep into my tight ass. He smacks my ass hard again. "This ass now belongs to me. You are now my dirty little whore and nothing will ever change that". Blake informs me but this time more in a softer, satisfied tone.
Serinda
844-33-CANDY
(844-332-2639)
ext 394
http://www.hotmilfphonesex.com/serinda